Effective Johannesburg DSTV Dish Installations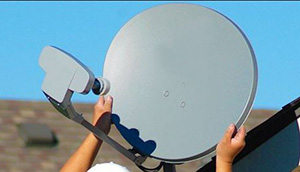 Before you choose any aerial and satellite dish products, it's advisable to consult with our certified DSTV dish installation Johannesburg service. Our highly knowledgeable technicians will talk you through the finer details and can help you avoid unnecessary expenses in the future.
The number of digital broadcasts and TV programming that you'll get depends entirely on the type of dish that you will choose. When looking for a dish, you need to understand the models available, their reception capability, and various characteristics. All these factors have an impact on your viewing pleasure. Be warned: the cheapest products are not water resistant and may last a maximum of 18 months only! The signal will also get scrambled, especially during bad weather. To avoid such troubles, we stock a variety of quality models that can withstand harsh weather and maintain the picture quality, hence saving you from the frustration that comes with substandard products.
Incompetent companies have for a long time provided substandard DSTV dish alignment. We not only provide quality dish and TV aerial installations, but also do it in a manner that allows you to receive strong signals. Our Johannesburg DSTV dish installation team has been frequently contacted to do precision alignment fixes as well complete re-installations. These services are essential if you need HD programming transmissions. In such instances, smaller dishes won't work and that's why we recommend that you get one of our 70cm HD dishes.
All our DSTV installations come at a very friendly price, so there's no need to try and do it yourself. Our DTSV installation prices are competitive and our experience assures you of getting the best signal and viewing experience. Get in touch for all dish-related issues including;
Choosing between LNB and twin LNB (depending on your requirements)
Satellite dish removal and dish re-install
Dish alignment/ dish direction
Tuning your current DSTV dish/ satellite receiver
Quality TV Aerial Installations in Johannesburg
Our certified Johannesburg-based company provides quality TV aerial installations that will allow you to receive both digital and terrestrial channels. We will install the right aerial for your property and align it to get a good signal reception so that it provides the best possible viewing experience. Our qualified aerial installers will also use the right attenuators, amplifiers, and power supplies to ensure that you don't experience any fuzzy signal reception.
If you want to access to different simultaneous broadcasting on more than one TV in your home, our TV aerial installations Johannesburg service can fix it for you. We also provide communal aerial and satellite installations for offices, apartments, and businesses. Whichever need you may have, kindly contact our team to provide quick fixes to all your problems.
LND Alignment and Installation
One of the most overlooked parts of DSTV setup installation is your LNB, and it can cause issues when you want to watch certain channels. As a credited LNB installer in Johannesburg, our technicians will set up your dish and connect it to the decoder properly to avoid loss of reception.
Our aerial and PTA services is available all day long throughout the week to provide quality same-day services. Should you be experiencing any problems with your dish, you can contact us for aerial and dish repairs as well as our DSTV satellite dish installations service. If you need to know more about what we have to offer, call us on 087 550 1900 or contact us through our contact form. We'll respond to all your queries immediately.